No matter what time of the year it may be, if you believe in always having your style game on point, then this post is for you!
We firmly believe that accessories have a major role to play in how your entire look turns out. While many people prefer to keep it low-key, say, with a pair of elegant earrings, a lot of people like to go all out (think Cocktail rings or statement neckpieces, or maybe both!) If you are somewhere in the middle of this spectrum, and want to learn more about styling accessories, continue reading!
If you are a newbie in the accessories game, make sure to opt for pieces which are versatile, and can be worn with just about anything and everything. So, to start with the basics, we recommend investing in some neckpieces. They are minimal in effort and yet maximum on comfort, which makes them a great addition to your collection.
Now, having said that, we have compiled a comprehensive necklace length guide to help you take your pick. Oh, and did we mention that it is BOTH for women and men (because why should women have all the fun?) Read on to know more!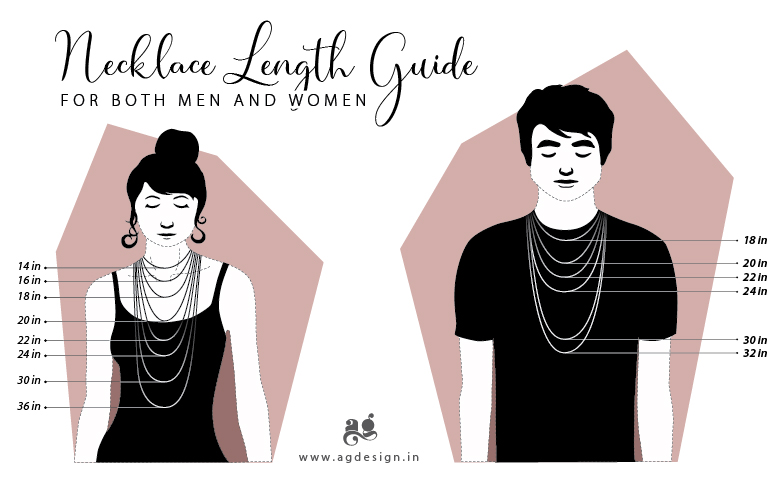 WOMEN – Necklace Length Guide
The necklace length for women depends on the type of neckline they choose to wear. There are six different necklace lengths for women. They are listed below: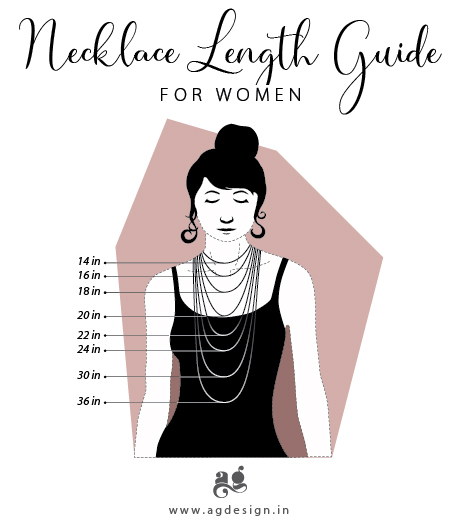 CHOKER: Necklace length – 14 inches
As the name suggests, it looks like a Choker and wraps pretty close around the neck. It can be worn with all necklines. For a formal look, we suggest you pair the choker with a high neckline. Whereas for a dramatic look, you can team the choker with a deep neckline as the contrast will definitely accentuate the look!
Fun fact: Chokers were extremely popular in the 90s, and they have made a comeback and how! First spotted on the runways in 2016, these have regained their cult status over the years with classic, colourful, and quirky designs!
COLLAR: Necklace length – 16 inches
If you are not sure about investing in a choker, you can definitely try the Collar neckpieces. The Collar necklace falls on the collarbone, a little below the neck. They can be worn with regular or deep necklines, as well as turtlenecks, sweaters and tops. Perfect combination of class and elegance, these necklaces a perfect for all occasions, whether it's a girls' night out or at office.
PRINCESS: Necklace length – 18 inches
A name with a royal touch, these are the most common necklaces that are worn by women, as they sit elegantly around the neck. The Princess necklace can be worn with many necklines, but we suggest that you wear it with high, V-neck, or sweetheart necklines as it will showcase the necklace in all its grandeur!
While there are many different types of Princess necklaces available in the market, we suggest you start with small minimalist pieces, as they are versatile in nature and can be worn for any and every occasion. Check out our range of "Meaningful Minimalist" necklaces for some quirky and unique pieces!
MATINEE: Necklace length – 20-24 inches
The Matinee necklace is of varied lengths, with the shortest one being around 20 inches, which falls below the collarbone. The next length is around 22 inches, which falls on the bust. Finally, the longest length is around 24 inches, which falls a little below the bust. Depending upon the length of the Matinee necklace, you can wear it with any neckline, but we would suggest the Boat neckline.
TIP: Wear beaded strings of all three lengths together for a statement.
OPERA: Necklace length – 30 inches
The Opera necklace falls on the diaphragm, which is a little below your lungs, and is rightly named so because most Opera singers wear them to accentuate that their deep voice comes from the diaphragm! How cool is that? The Opera necklace can be worn with high, regular necklines and asymmetric necklines. For dramatic effect, we recommend you to wear it with high and halter necklines.
TIP: Layer with shorter minimalist necklace for a fuller look.
ROPE: Necklace length – 36 inches
The longest length in necklaces, the Rope necklaces are usually, but not limited to be worn at special occasions. They usually fall on your tummy. You could also wrap it twice around your neck to adjust the length as per your wish. They are versatile like that! The Rope necklace can be worn with high or regular necklines as well. Depending upon your comfort level, you can also layer this up with more neckpieces for that added oomph.
MEN – Necklace Length Guide
Unlike women, the necklaces for men do not have specific names. In a nutshell, there are three types of necklace lengths or men. Here, Listed below is the necklace length guide for men:
18 inches Necklace length
This is the shortest in length for men's necklaces. Like a Choker, it sits at the base of the neck, and is entirely visible. This can be worn with T-shirts and shirts.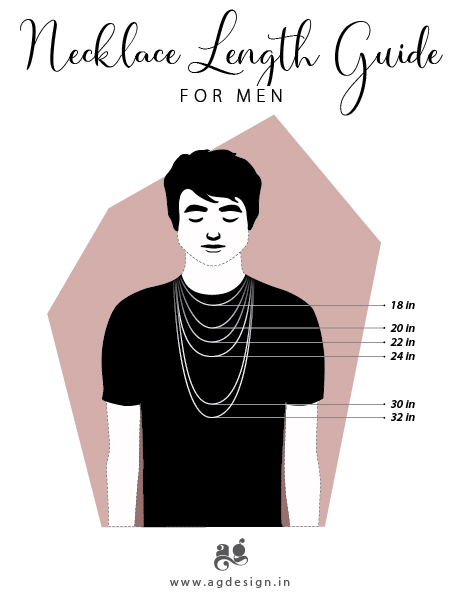 20-24 inches Necklace length
For a slightly subtle look, they are usually worn under T-shirts and shirts, with the links peaking out when one has an open collar. These are the most common lengths in men's necklaces.
30-32 inches Necklace length
This is the maximum length there is in men's necklace. This falls right on the chest, and is usually worn without a pendant, and worn for exclusive occasions.
Bonus tip:
Another thing to remember while choosing your necklace is that it should complement your height. Taller people will need longer lengths compared to petite ones.
So that, right there is all you need to know about the necklace lengths for women and men. We hope we have been able to help you decide how you want to go about choosing the necklace best suited for you!
You could put what you have learnt into use by having a look at our collection of necklaces right away!
For more tips and inspo, don't forget to follow us on!
Until next time!
Pin Me!